Center Spotlight: DMC Detroit Receiving Hospital
Alfred E. Baylor, III, MD, FACS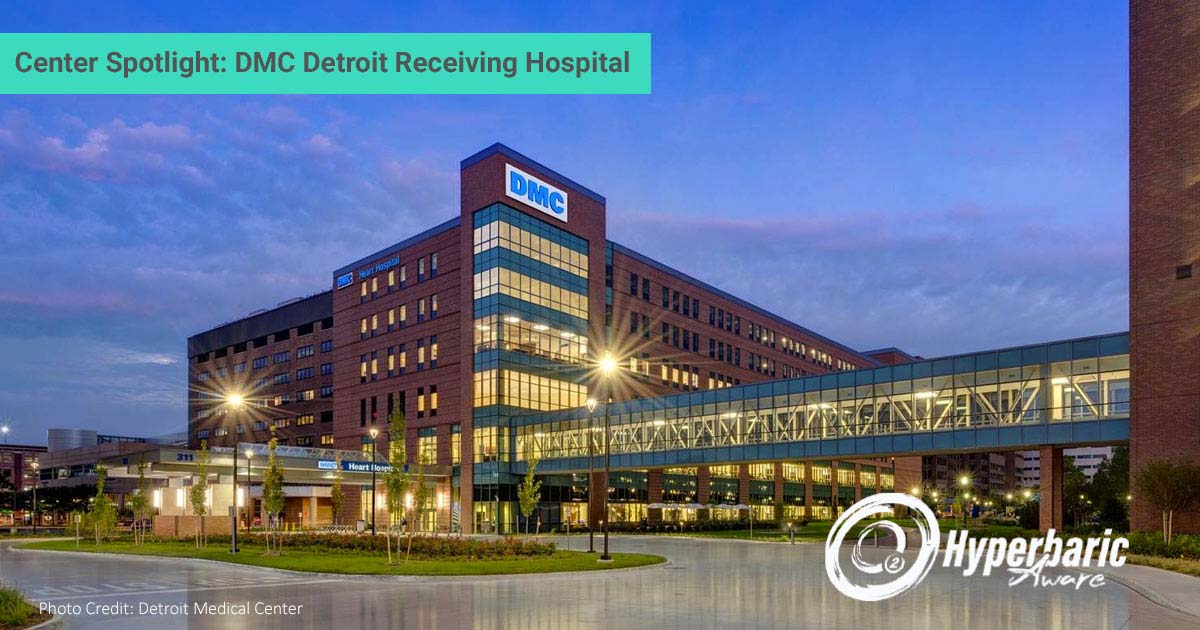 Center Spotlight: DMC Detroit Receiving Hospital
Part of Detroit Medical Center (DMC), the Detroit Receiving Hospital has a vision to serve its community–and the country–with the most advanced and evidenced-based care available. The center participates in an array of research to assist in the progression of not only emergency medicine, but also hyperbaric medicine, all with a goal to improve patient outcomes and increase their quality of life.
Detroit Receiving Hospital, Michigan's first Level I Trauma Center, has played a pioneering role in the evolution of emergency medicine. The hospital hosts one of the busiest and most well-equipped emergency departments anywhere, and has the oldest and largest burn center in the state, which is one of only 43 in the country.
Advanced Wound Care in Michigan
With an 18-person multiplace hyperbaric oxygen chamber, Detroit Receiving Hospital ranks among the largest wound healing centers in Michigan.
Leading the center is Medical Director of Wound Healing and Hyperbaric Medicine, Alfred Baylor III, M.D., who has been serving the Detroit region for more than 20 years. He and his team of physicians, nurses, and certified hyperbaric technicians are committed to the complete care of patients throughout the healing process.
The facility uses Hyperbaric Oxygen Therapy (HBOT) to treat various medical conditions, including osteoradionecrosis, chronic refractory osteomyelitis, radiation cystitis, diabetic ulcers and other non-healing wounds, compromised skin grafts, and more. The facility has the capability to treat patients of any age or acuity.
"Our patients range from pediatric to geriatric and critical care to outpatient. Working in level one trauma center, affords us the opportunity to see the entire spectrum of diagnoses," says Dr. Baylor.
Advancing the Field
According to Baylor, the Wound Care and Hyperbaric Center at Detroit Receiving Hospital is running two multi-centered trials involving hyperbaric oxygen and severe traumatic brain injury: HOBIT and BOOST-3.
"These studies are helping to understand the ability of hyperbaric oxygen and its effects on those severely injured and the ability to improve outcomes and recovery long term (six months after injury)," explains Baylor. "We are but a handful of centers with the ability to do these types of trials due to the expertise of the staff and physicians here at DRH."
The HOBIT study, which focuses on using hyperbaric oxygen therapy to treat traumatic brain injury (TBI), is part of The Strategies to Innovate Emergency Care Clinical Trials Network (SIREN). SIREN is funded by the National Institutes of Health, an agency of the federal government. DRH is one of about a dozen emergency centers participating in this research study.
The BOOST-3 trial, also part of SIREN, is a comparative study of the effectiveness of two treatment and monitoring methods of TBI in intensive care units.
Dr. Baylor says he's committed to trials like these because he firmly believes that "to increase patient outcomes, research is crucial for advancement in the medical field."
More About Our Medical Director of Wound Healing
Dr. Baylor received his undergraduate degree from Hampton University and his medical degree from Georgetown University School of Medicine. He was trained in General Surgery residency and did a fellowship in Surgical Critical Care at Wayne State-affiliated hospitals.
Dr. Baylor practices general surgery performing, including but not limited to, the surgical treatment of gallbladder disease, stomach, small intestinal, and colonic diseases, endocrine (thyroid and parathyroid disease), soft tissue, cancer of the GI organs and tract, hernia repair, skin graft, tracheostomy, facial excision, and wound care. Among the conditions he treats are general surgical diseases, burns, trauma, cancer, and skin disorders.
Board certified in General Surgery, and Surgical Critical care by the American Board of Surgery and by the American Board of Preventive Medicine in Undersea and Hyperbaric Medicine. Dr. Baylor is also an Associate Professor of Surgery, Vice Chair of Diversity, Equity and Inclusion and clinical educator at Wayne State University School of Medicine.
More About Detroit Receiving Hospital
Detroit Receiving Hospital's medical experts are nationally recognized, and each year, hundreds of DMC doctors are included in the list of America's Best Doctors™. A reputation for excellence draws patients to world-class programs in oncology, organ transplant, cardiology, women's services, neurosciences, stroke treatment, optometry, orthopedics, pediatrics, and rehabilitation. DRH is also home to a Center of Excellence for disaster preparedness that has been the model for regional, state, national and federal agencies.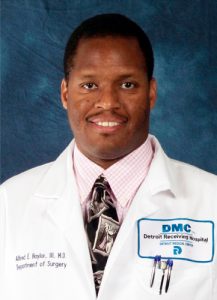 Director, Hyperbaric Medicine
Alfred E. Baylor, III, MD, FACS